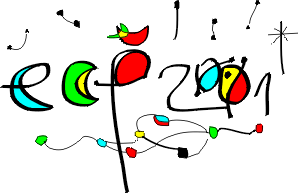 Previous editions of ECP
---

- ECP -
THE EUROPEAN CONFERENCES ON PLANNING


---
The European Conferences on Planning (ECP) are a major forum for the presentation of new research in AI Planning & Scheduling.

They developed from a series of European Workshops and became successfully established as international meetings, held in alternate years with the AIPS conferences.

We are glad to offer you some information and references about the next edition, ECP-01, to be held in September 2001 in Spain; you will also find a brief overview of the past editions of the Conference, complete with indexes of their proceedings.


---
NEXT EDITION NEWS

---

6th European Conference on Planning, ECP2001
Toledo, Spain, September 2001

Call For Papers:
Official Web Site:

Notice: the ECP2001 Official Web Site will be on-line soon, with detailed information about registration, papers submission, conference location, schedule and deadlines - check it often for the latest updates!
---
PAST EDITIONS HISTORY

---

1st European Workshop on AI Planning, EWSP'91
St. Augustin, Germany, March 1991




[Top of Section]


[Top of Page]


---

2nd European Workshop on AI Planning, EWSP'93
Vadstena, Sweden, December 1993

[Top of Section]


[Top of Page]


---

3rd European Workshop on AI Planning, EWSP'95
Assisi, Italy, September 1995

[Top of Section]


[Top of Page]


---

4th European Conference on Planning, ECP'97
Toulouse, France, September 1997

[Top of Section]


[Top of Page]


---

5th European Conference on Planning, ECP'99
Durham, United Kingdom, September 1999

[Top of Section]


[Top of Page]


---
PUBLISHER CONTACTS

---

[Top of Page]


Page design by Marco Navigli